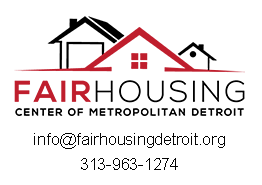 To report a violation or for more information, please contact the Fair Housing Center of Metropolitan Detroit.
Did you know?
GPBR's own Chris VanBelle - 2020 Macomb Chapter President and Board 2021 President-elect is on the Michigan REALTORS® Fair Housing committee
CEO Bob Taylor is on the National Association of REALTORS® Fair Housing Policy Committee
GPBR holds 5 memberships to the local Harper Woods/Grosse Pointe Chapter of the NAACP
GPBR is an affiliate with the Fair Housing Center of Metro Detroit
GPBR is working to hold an affiliate membership with NAREB - North American Real Estate Brokers
GPBR also supports the local WeGP – Welcoming Everyone Grosse Pointe - Pride March.