MSHDA - Q&A
Tuesday, March 21, 2023
10:00am - 11:00am
HYBRID FORMAT!
Virtual Via Zoom
(zoom info below!)
Or
In-Person at the GPBR Board Office
710 Notre Dame
Grosse Pointe, MI 48230
Click here for directions
Join us to have your questions about MSHDA answered!
What do I need to know about MSHDA loans?
Who can qualify for a MSHDA loan, and how?
Would my client want to consider a MSHDA loan?
What are some of the intricacies of closing on a MSHDA deal?
How are MSHDA and FHA different, yet similar?

Instructor: Eric Dusenbery, MSHDA Homeownership Business Development
FREE to GPBR Members!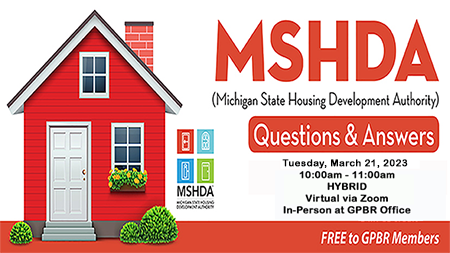 March 2023

S
M
T
W
T
F
S
1
2
3
4
5
6
7
8
9
10
11
12
13
14
15
16
17
18
19
20
21
22
23
24
25
26
27
28
29
30
31
---