MSHDA Session Q&A
Wednesday, February 24th
10:00am - 11:00am
Virtual Via ZOOM

Zoom link will be in email confirmation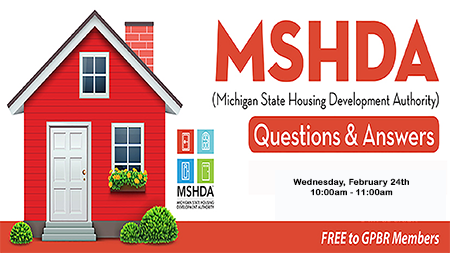 What do I need to know about MSHDA loans?
Who can qualify for a MSHDA loan, and how?
Would my client want to consider a MSHDA loan?
What are some of the intricacies of closing on a MSHDA deal?
How are MSHDA and FHA different, yet similar?
Instructor: Eric Dusenbery, MSHDA Homeownership Business Development
FREE to GPBR Members!
February 2021

S
M
T
W
T
F
S
1
2
3
4
5
6
7
8
9
10
11
12
13
14
15
16
17
18
19
20
21
22
23
24
25
26
27
---