Join us in celebrating 35 years of the GPBR by investing your $35! Click on the image or the links below. Please call 313-882-8000 or email us at members@gpbr.com for more information.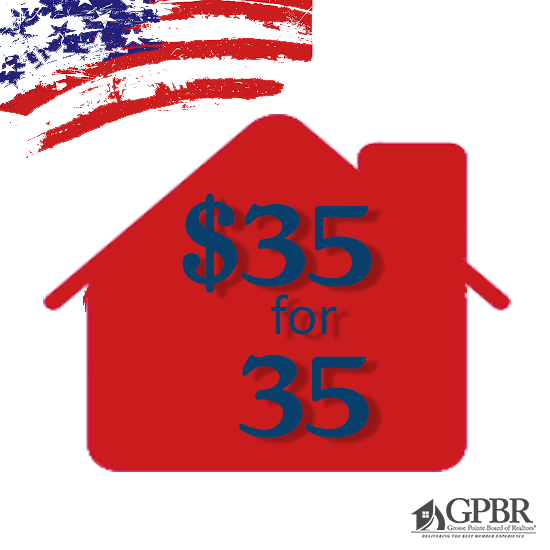 Make an investment!
On November 12, 2020, the GPBR kicked off our 35th year! This board has had many incredible years in our brief history and will have many more amazing years to come. In honor of the 35 years of GPBR, we want to celebrate in a historic way. Please join our celebration by investing $35 for 35 years! RPAC fights for you on a daily basis at the local, state and national levels. In fact, RPAC does not fight just for you, but for your clients, your families and all property owners.
During the 2020 pandemic shut down, RPAC fought to get REALTORS, as independent contractors, back to work and succeeded. RPAC also succeeded in having independent contractors eligible for unemployment insurance – a success that was felt not just by REALTORS, but all independent contractors in Michigan! RPAC has strengthened the understanding of the real estate industry throughout all levels of government for many years. Making sure you and I can bring home the bacon without paying extra fees, or helping to prevent deals being left on the table, RPAC is always there fighting for us.
Won't you join me in celebrating the Grosse Pointe Board of REALTORS 35th birthday by investing $35 for 35 years! We will be continuing this campaign through the remainder of this year. There will be a line item on your 2022 dues renewal for the RPAC $35 investment.
Contributions are not deductible for Federal income tax purposes. RPAC contributions are voluntary and used for political purposes. You may refuse to contribute without reprisal or otherwise impacting your membership rights. For individuals investing $1,000.00 or greater, up to 30% of this total investment may be forwarded to the National Association of Realtors® RPAC. All amounts forwarded to the National Association of Realtors® RPAC are charged against the applicable contribution limits under 52 U.S.C. 30116.
Nothing herein shall be construed as a solicitation of contributions from non-members. A copy of the federal report, filed by National RPAC with the Federal Election Commission, is available for purchase from the Federal Election Commission, Washington D.C.20463. State reports are filed with the Michigan Secretary of State, Elections Division, Lansing, Michigan.