29th Annual Golf Outing
Monday, September 9, 2019
11:00am Registration
12:00pm Lunch
12:30pm Shotgun Start
5:45pm Cocktails, Dinner & Raffle

♦ Scroll Down to Register ♦
WE ARE MAXXED OUT ON GOLFERS!!! IF YOU WISH TO PAY FOR YOUR GOLFING REGISTRATION, PLEASE CALL GPBR AT 313-882-8000 ext. 2
DINNER ONLY REGISTRATION IS STILL AVAILABLE BELOW!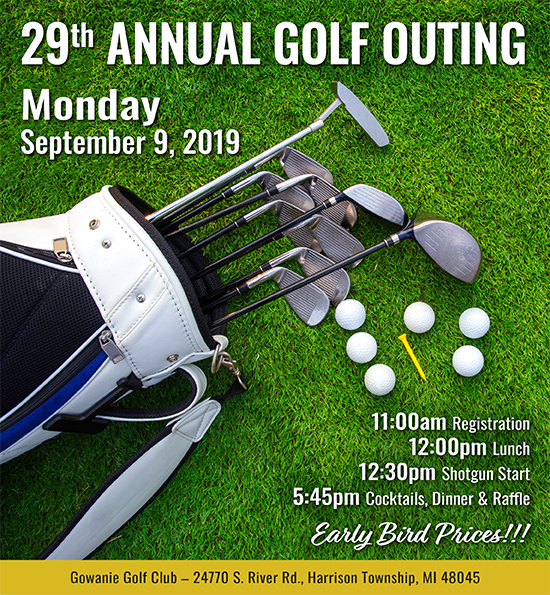 Join us once again as we will all enjoy a lovely day of golf and a fun evening of dinner, drinks, and the tin-can auction. Last year we had over $13,000 in prizes.... this year will be amazing!

Early Bird Prices!
$125 for Golf, Lunch, Cocktails, & Dinner when paid by Sunday, 9/1/19 OR
$50 for Cocktails & Dinner when paid by Sunday, 9/1/19. Don't miss out!

*Pre-registration is available. When paid between Monday, 9/2/19 - Sunday 9/8/19 prices are $135/golf and $55/dinner. Day of event (9/9/19) or later prices are $145/golf and $60/dinner.

Download the event flyer.

Sponorship Opportunities!
Don't miss your chance to become a sponsor of this amazing event. Have quesetions? give us a call 313-882-8000 ext. 2.
September 2019

S
M
T
W
T
F
S
1
2
3
4
5
6
7
8
9
10
11
12
13
14
15
16
17
18
19
20
21
22
23
24
25
26
27
28
29
30
---