NAR's Bias Override Certification
Tuesday, June 20, 2023
10:00am - 1:00pm
HYBRID FORMAT - Scroll down to see whether you registered to attend in-person or virtually via Zoom!
Virtual Via Zoom*
-OR-
In-person at the GPBR Board Office
710 Notre Dame
Grosse Pointe, MI 48230
Click here for directions
Instructor: Furhad Waquad
Instructor will be teaching via zoom. Participants are welcome to join in-person at our office or attend virtually as well.
Bias Override: Overcoming Barriers to Fair Housing is an NAR certificate course that helps real estate professionals interrupt stereotypical thinking so they can avoid fair housing pitfalls and provide equal professional service to every customer or client. Participants will learn about the mind science of identity, study how implicit bias can result in fair housing violations, and engage in interactive exercises to enhance communication skills and business relationships with clients of all backgrounds.
About the Course
Bias Override teaches REALTORS® how to:
Understand the history of bias and discrimination in real estate.
Explain how implicit bias may result in violations of Fair Housing laws and industry ethics.
Identify interventions to prevent implicit bias, identity anxiety, and stereotype threat from influencing behavior.
Increase personal motivation to confront these phenomena in their business and community
Thank you to our generous sponsor Luke Sasek, Cutco Closing Gifts!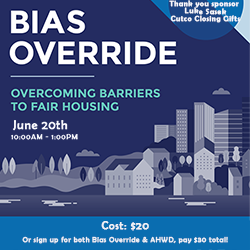 June 2023

S
M
T
W
T
F
S
1
2
3
4
5
6
7
8
9
10
11
12
13
14
15
16
17
18
19
20
21
22
23
24
25
26
27
28
29
30
---